As we ease into more relaxed restrictions during the pandemic, you may now take a hike, bike, kayak or fish in New Jersey, Pennsylvania and Delaware state and some county parks, with certain restrictions that differ wherever you may be, so please check before you go. For those craving nature while hunkering down, there are plenty of opportunities to connect with the outdoors without leaving home. Through virtual programming for adults and children, you can learn about migratory birds and butterflies, meet the animals that live in our forests and rivers, and learn how rain barrels in your backyard can help reduce stormwater pollution.
Alliance for Watershed Education of the Delaware River (AWE) environmental education centers are bringing nature directly to you by offering a smorgasbord of mostly free, fun and eco-conscious virtual programming for every family member to enjoy. AWE centers' online programs and videos are frequenting updated at watershedalliance.org, and see highlights below.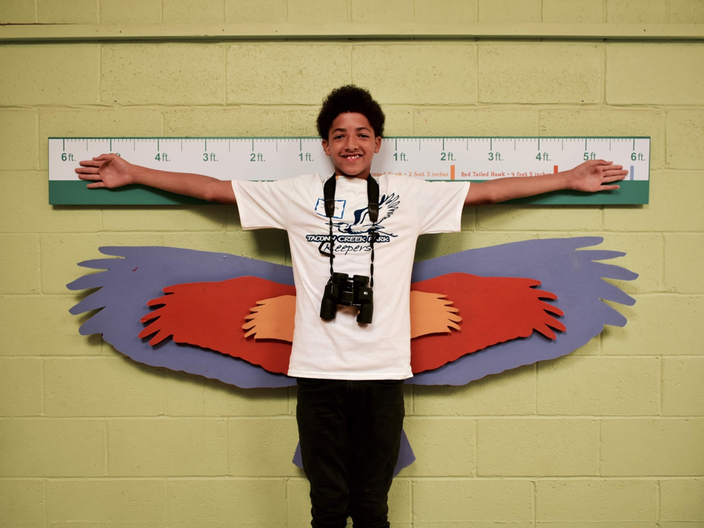 DORYÅN DE ANGEL/ALLIANCE FOR WATERSHED EDUCATION
AWE virtual programming for the family
• Learn about the creatures you can find in and along the Delaware River, including a mayfly nymph, a giant swallowtail butterfly, and fly-fishing lures pretending to be creepy-crawly river friends as you color them in on these awesome coloring sheets offered by Independence Seaport Museum.

• Hunt for a bear with Shannon at the Heritage Conservancy as she discovers and identifies all sorts of animal tracks in the woods.

• Learn about the nature that's right in your backyard, some Lehigh Gap history, and meet Maize the Snake through a series of videos from the Lehigh Gap Nature Center.

• Meet a turtle and a crayfish with Park Rangers Kelly and Bri at the John Heinz National Wildlife Refuge Center.

• Meet a plated lizard at the Center for Aquatic Sciences at Adventure Aquarium.




CENTER FOR AQUATIC SCIENCES/ALLIANCE FOR WATERSHED EDUCATION


• The Fairmount Water Works Interpretive Center offers educators and home-schooling parents curriculum on water-themed activities, as well as the magic of the Mighty Mussel.
This is just a sample of online activities and educational videos offered by AWE Centers. Check out the full list by CLICKING HERE .
AWE virtual programming for adults
• Wednesday mornings, through to June 23rd 10:00 to 11:00 am Want to learn something new while enjoying your morning coffee? Tune in every Wednesday morning at 10:00 to The Nature Conservancy in Delaware and The Nature Conservancy in Pennsylvania's "Coffee Series" featuring an expert on a different topic each week. With topics ranging from eagles to wildflowers & stream stewards to fire programs, watch episodes anytime– just bring your coffee or tea! To register for an upcoming webinar CLICK HERE.

• The Watershed Institute's "River-Friendly" lunchtime webinars focus on core topics related to water quality, water conservation, wildlife and habitat enhancement, and education. To register for an upcoming webinar, CLICK HERE.

• De-stress anytime with this Mindfulness Moment with Trees video by Heritage Conservancy.

• The magnificent refuge trails at John Heinz National Wildlife Refuge at Tinicum are open, however some parking lots are inaccessible at this time. Check before you go. Their Facebook page is host to live #HeinzatHome virtual programs every Tuesday and Thursday at 1:00 pm!

• Explore the Independence Seaport Museum 's online exhibits, including Skin & Bones: Tattoos in the Life of the American Sailor

• The John James Audubon Center at Mill Grove and Philadelphia's new Discovery Center may be closed, but find avian inspiration HERE, and myriad teacher's guides HERE.

• Join other curious readers on literary adventures in thePage Flippers Book Club hosted by the Center for Aquatic Sciences at Adventure Aquarium . Together we will read a variety of books that focus on environmental themes, conservation issues, or animal antics. For more information, CLICK HERE.
Check back frequently for an updated list of online offerings HERE.